Personal Consultant Available over the Phone at NEXT BASKET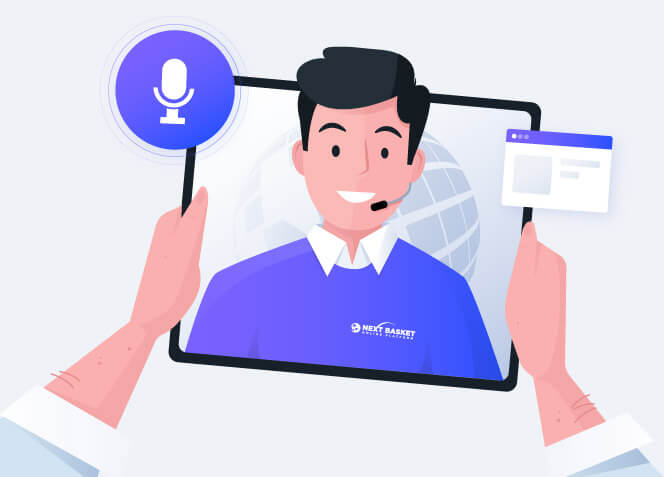 With NEXT BASKET, you get much more than a beautiful, modern, and functional online store.
We offer you expert help and support in using the Platform and running your business per all best practices in e-commerce.
For this purpose, our Partners can use the personal consultant service with direct telephone calls and chat applications.
Your consultant will be there for you whenever you have a question, a hesitation, a difficulty, or an idea — because we know how important it is not to have a clumsy and impersonal apparatus at your side but a real and committed person whose main priority is you.
Get real-time help, advice, and consultations
Don't know how to set promotional product prices, struggle to manage your courier integration, or have a question about forming a new product category?
Your personal consultant will provide real-time guidance, information, and resources on all features and tools in the NEXT BASKET platform.
Our goal is to have not just customers but Partners, together with whom we can change how e-commerce is developed in Europe and the world.
Rely on customized solutions to benefit your business
Your personal consultant will be by your side from your first day on the Platform and will know in detail the specifics of both your business and your online store.
Along with knowledge and experience in the field of e-commerce, you will get the best possible combination of theoretical knowledge and practical customization tailored to your needs.
The result — not only template solutions with unpredictable effects, but well-thought-out advice focused exclusively on your business growth.
Request services within minutes
The NEXT BASKET ecosystem offers you 125+ expert services for online business development, including 24 or 75 free services, depending on the option you choose to use the Platform.
However, that doesn't mean you can't change the type and number of services to suit the changing needs of your business.
If you see unsatisfactory results but can't analyze what's causing them, your consultant will listen to you and recommend the proper expert intervention.

If you know exactly what you need and need it now, your consultant will add the service to your plan in minutes to get started immediately.
Communicate in a way that suits you
NEXT BASKET's personal consultants are right where you need them — a click or a phone call away.
We understand your need for flexibility and won't waste your time with complicated systems and outdated communication protocols.
You can use all modern communication channels and combinations of them, and your consultant will be at your disposal on:
Viber
WhatsApp
Email
Chat
Phone
In the SELF option, you will have a pre-fixed time frame to access your personal consultant according to your monthly package:
MINI – 3 hours
MIDI – 10 hours
MAXI – 20 hours
After these hours are exhausted, our Partners have the option to purchase an additional hourly consultation, the cost of which depends on the package used.