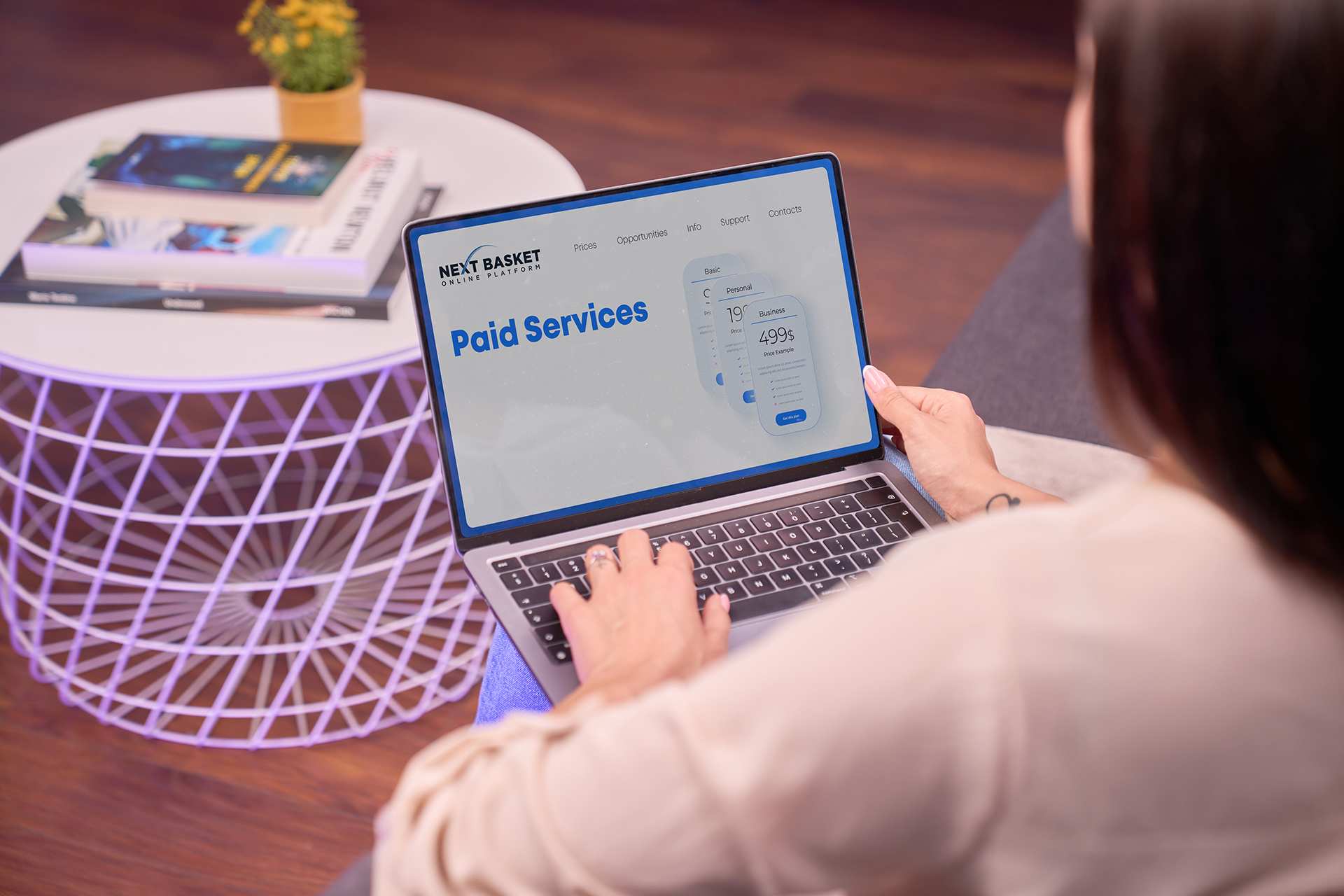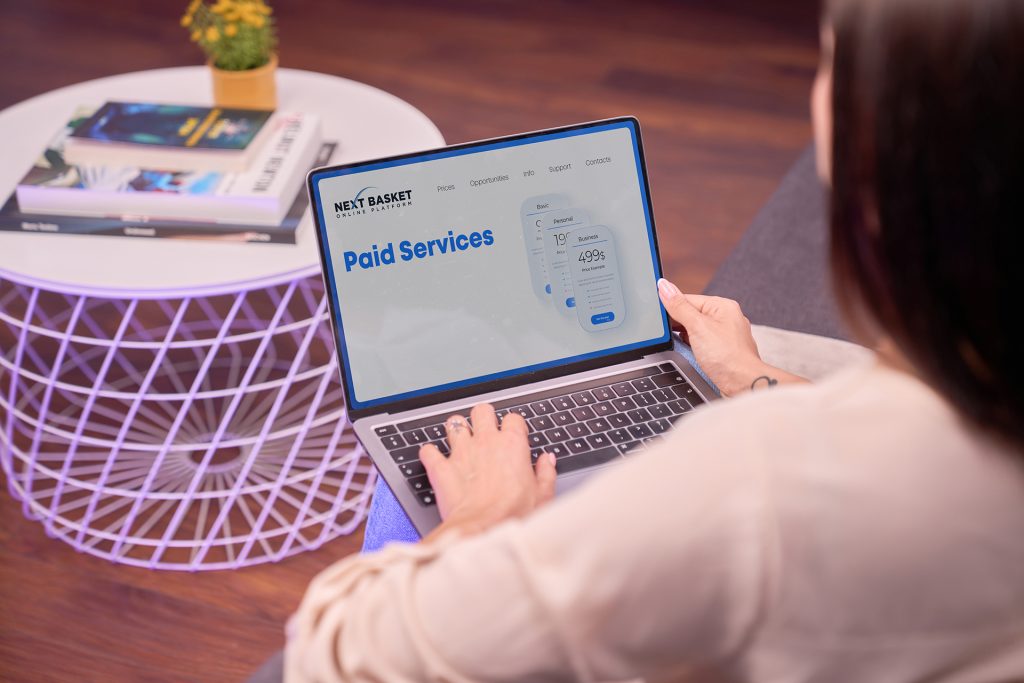 The paid services aim to provide you with all the expert support in the field of digital marketing, SEO optimization, accounting for online commerce and any other activity for which you do not have the knowledge or your own team.
This is an innovative way to start and develop e-commerce, which includes not only the software or the tool to manage your online sales, but also everything else you need to have a modern, functional, competitive and profitable online store .
This way you get not just a modern site, but a complete solution for real sales in Bulgaria and a total of 28 countries in Europe.
What are our e-commerce services?
In the NEXT BASKET ecosystem, you will have at your disposal a team of narrow specialists in all areas of e-commerce locally and internationally.
After we develop your online store, you can decide whether to manage it yourself or delegate your digital development tasks to our team.
Depending on the chosen business model, you use from 25 to 85 free services included in your price plan.
The other services are performed at your choice for an additional fee.
What paid services can you use in each business model and option?
Below you can see a list of all paid services included in the different business models and options for using the Platform.
Services
NB SELF


(Partner manages the online store by himself)

(some of the services and integrations are under development)

Is currently available?
Price
Paid

Registration of the online store in the Bulgarian National Revenue Agency-supported Public List of Electronic Stores

NEXT BASKET assists in registering in the Public List of Electronic Stores of the Bulgarian National Revenue Agency.

Show more

Show less

Creating a delivery terms page

This is a page that lists the delivery terms of online orders from various courier companies.

Show more

Show less

Yes

Creating a return terms page

This is a page that specifies the specific conditions for returning product(s) from online orders – duration, return methods, etc.

Show more

Show less

Yes

Creating a warranty terms page

This page indicates the warranty period for different categories of products sold in the online store.

Show more

Show less

Yes

Creating a Frequently Asked Questions (FAQ) page

The FAQ is a page that provides answers to the most frequently asked questions by the online store's end customers.

Show more

Show less

Yes

Creating a contact page

A mandatory page for contacting the online store manager and call center, indicating the contact details of the office and warehouse (location, phone number(s), email address).

Show more

Show less

Yes

Creating Terms and Conditions

The NEXT BASKET team drafts Terms and Conditions that regulate the rules under which customers can order the products offered in the NB user's online store.

Show more

Show less

Yes

Call center services

NEXT BASKET offers two types of call centers: inbound and outbound. The inbound call center handles inquiries initiated by current or potential customers, often related to the need for additional information about the offered products. With the outbound call center, operators initiate calls to current customers to gather additional information about placed orders, offer promotional deals, etc.

Show more

Show less

Creating an online store based on a pre-selected theme

The NEXT BASKET team designs the online store based on a pre-selected theme that matches the respective business category of the User and is tailored to the brand's corporate identity.

Show more

Show less

Yes

Initial uploading of product descriptions and images to the site

Opportunity to import products when providing the necessary information and a file in a suitable format (template).

Show more

Show less

Yes

Using all the capabilities of the ERP system for the online store

An ERP system developed by NEXT BASKET, which includes various modules: Warehouse, Sales, Customer Management, etc.

Show more

Show less

Yes

Omnichannel integration between physical and online stores

Complementary sales channels with a created link between online and physical stores.

Show more

Show less

Yes

Sending newsletters

A marketing tool that allows customers to be informed about topics of interest related to the online store and offered products. With a newsletter subscription, it is sent periodically, either weekly, monthly, or annually. The price does not include mailing platform fees.

Show more

Show less

Yes

Integrating drop-shipping functionality into the platform

Opportunity to integrate the online store with a different drop-shipping platform available in NEXT BASKET.

Show more

Show less

Online merchandising (product arrangement on the site)

Includes techniques aimed at supporting the sale of a product through the proper positioning of different product categories.

Show more

Show less

Yes

Checking for malicious links (once every three months)

Performed once a month using software that monitors malicious links that could harm the store's ranking in search engines.

Show more

Show less

Yes

Ensuring delivery of online orders in 28 European countries

Using the service allows the NB Partner to ship their products to multiple countries.

Show more

Show less

Creating, configuring, and launching an online store with a custom design

Paid for if the service of creating and configuring the online store is performed by NEXT BASKET.

Show more

Show less

Yes

Creating online stores in 28 European countries

Building stores in 28 countries in the respective language and currency; compliance with the tax legislation of the respective country.

Show more

Show less

Uploading new products in different languages

We can put everything about new products on the site: photos, descriptions, warranty terms, technical specifications, maintenance methods, reviews, etc. The price is for foreign languages other than Bulgarian.

Show more

Show less

Yes

Translating new products into different languages

ВOpportunity to translate products, create dynamic and static pages in multiple languages, and upload to the respective domain.

Show more

Show less

Integration with external services and software – with courier companies, payment and ERP systems, marketing tools, etc., upon request by the NB Partner

Through interfaces developed by NEXT BASKET, the Partner can request a service for integration with third-party software.

Show more

Show less

Adapting the online store to the business of the NB Partner

Changes by NEXT BASKET to all pages, products, and settings of the online store according to the Partner's requirements.

Show more

Show less

Yes

Integrating a full ERP system, including warehouse, finance, accounting, invoicing, orders, human resources, physical store, etc.

The NB ERP system is modern, reliable, and easy to use. It can be integrated into the Partner's business – office, warehouse, store, and achieve successful integration between goods-business processes-online store.

Show more

Show less

Integrating the NB ERP system into the platform only in the physical store of the NB Partner

The service is performed for the Partner's physical stores to establish a connection between the physical store and the online store. This is a mandatory condition to work under the LOCAL variant.

Show more

Show less

Integrating fulfillment software into the warehouse of the NB Partner

Integration of NB's fulfillment warehouse software into the Partner's warehouse specialized in online sales.

Show more

Show less

Integrating payment or marketing systems specified by the NB Partner

Opportunity to integrate third-party software in accordance with the business requirements of the NEXT BASKET Partner.

Show more

Show less

Marketing services

Digital Marketing (TikTok, Facebook, Instagram, Google, Criteo)

Professional maintenance and management of advertising campaigns on Facebook, Google, TikTok, Criteo, etc. Effective marketing that includes professional planning, precise targeting, and proper allocation of the anticipated advertising budget.

Show more

Show less

Yes

Creating a UTM (Urchin Tracking Module) template in Excel/Google Sheets (links that track where the traffic to the online store comes from)

Using a UTM template for all marketing links will help standardize and accurately report the results of your marketing campaigns.

Show more

Show less

Yes

Preparation and implementation of a strategy in Facebook Ads (advertising on Facebook) in order to minimize incomplete purchases in the store.

Preparing and implementing such a strategy in Facebook Ads is guaranteed to reduce unfinished purchases from customers. This strategy is an indispensable part of any successful online store.

Show more

Show less

Yes

Creating and setting up Facebook Business Manager

Creating and configuring Facebook Business Manager includes – Facebook Ad Account, Facebook Pixel, Facebook Conversion API, Facebook Catalogue, Domains, Apps.

Show more

Show less

Yes

Creating a Google Ads Account (Advertising on Google)

The service includes creating a Google Ads Account and transferring its ownership to the NEXT BASKET partner.

Show more

Show less

Yes

Building and setting up a Google Analytics v4 account with a full e-commerce package

The service includes creating, setting up, and implementing all necessary and discussed standard goals with the NEXT BASKET partner for tracking the online store's performance. It does not include creating individual implementations.

Show more

Show less

Yes

Creating a monthly posting calendar for social networks

The service includes creating a posting calendar for social networks tailored to the needs of the NEXT BASKET partner. The price does not include creating visuals and texts.

Show more

Show less

Yes

Implementing and analyzing heatmaps on the site

Shows where the end customer most frequently clicks and where they click rarely. The service includes creating and analyzing heatmap data on key pages – Home page, Product Listing page, Product page, Cart, Checkout. Other pages can be added after prior agreement with the NEXT BASKET partner. The price does not include software fees.

Show more

Show less

Yes

Implementing and analyzing A/B/X tests on the site (double-blind tests)

The service includes creating and analyzing A/B/X tests previously defined with the NEXT BASKET partner.

Show more

Show less

Yes

Developing an annual Facebook Ads strategy aimed at gathering a potential audience of customers (leads)

The service includes creating a strategy in Facebook Ads through which the NEXT BASKET client can gather a potential audience of customers (leads) and their information (e-mail, phone). The strategy and campaign goals are determined in advance with the Partner.

Show more

Show less

Yes

Creating interactive dashboards for analysis through Google Data Studio (all online store data in one place)

The service includes creating interactive dashboards for analysis in Google Data Studio, helping you get a quick and accurate view of your entire business. All metrics are discussed and defined in advance with the NEXT BASKET partner.

Show more

Show less

Yes

Building a creative concept for advertising

The service includes a professional creative concept tailored to the needs and goals of the brand for a specific campaign.

Show more

Show less

Yes

Building an automated report on the performance of ads in Facebook Ads

The service includes building a real-time automated report showing the performance of the ads. The price does not include a monthly subscription to a data transfer application.

Show more

Show less

Yes

Building a comprehensive annual remarketing strategy (bringing back people who have already visited the site)

The service includes building a comprehensive remarketing strategy that includes a marketing mix of channels based on a predefined monthly budget with the NEXT BASKET partner. It does not include the strategy's implementation.

Show more

Show less

Yes

Building a full lifecycle marketing strategy (customer lifecycle)

The service includes building a comprehensive lifecycle marketing strategy, aiming to cover all stages in marketing – from acquiring new customers to retaining them and turning them loyal to the brand.

Show more

Show less

Yes

SEO optimization of the online store

Keyword research for SEO purposes

Investigation of user searches in Google related to the business's products or services. Conducted separately for all countries and languages where SEO optimization is planned. The price includes research on up to 200 words for one market.

Show more

Show less

Yes

Formation of a semantic core

Collection and grouping of all keywords (up to 200 words for one market) with which users search for the business's products and services. Includes various indicators for each word such as monthly search volume, competition saturation, seasonality, etc.

Show more

Show less

Yes

Clustering of keywords and semantic cores

Meaningful grouping and planning of interconnections between different groups of products/services offered by the business in one market. Helps in creating the correct architecture of the online store and its respective categories, subcategories, and filters, as well as in the semantic optimization of the site.

Show more

Show less

Yes

Developing a content marketing strategy (CMS) for SEO purposes

Determines what the policy in the field of SEO optimization for a specific market will be over the next 6 months regarding blog article topics, external media, site content, product descriptions, and others.

Show more

Show less

Yes

Assessment and recommendations for improving current content

A one-time assessment of the site's existing content (e.g., when migrating to NEXT BASKET) to adapt it to the current content strategy. Helps avoid technical and semantic errors, such as keyword cannibalization and/or low content quality. The price is combined with the development of a content strategy for SEO purposes.

Show more

Show less

Yes

Localization of the site for different countries and markets

Setting the correct technical markers for sites with multiple language versions and providing the necessary information to search engines so that each language version is visualized to the correct audience.

Show more

Show less

Yes

Sitemap settings

Configuring the sitemap (sitemap.xml) according to best practices and business priorities to ensure proper indexing of the site/online store pages.

Show more

Show less

Yes

Image optimization

Modifications in sizes, formats, alternative tags, and other technical parameters of images according to best practices and search engine requirements.

Show more

Show less

Yes

Adding structured data to the site

Determining and integrating the correct types of structured data needed for categorizing pages and displaying enriched results on the search engine results page.

Show more

Show less

Yes

Local SEO for physical locations

Creating and managing a Google Business Profile for businesses with one or more physical locations to increase on-site visits, including as part of an omnichannel commerce strategy. Monthly subscription.

Show more

Show less

Yes

Creating an editorial calendar and publishing articles in external media

Media calendar: Planning and writing up to 6 articles of up to 3,000 characters each, which meet the requirements of the online store's content strategy, and publishing in external media for link building purposes. It does not include the amounts paid to the media.

Show more

Show less

Yes

Creating content in the website

Creating texts for categories, subcategories, product pages, and brand pages, in line with the clustering and the overall content strategy. Up to 10 texts of 2,000 characters each.

Show more

Show less

Yes

Creating internal links on the site

Harmonious distribution of internal links with the correct anchor text to give more weight to the main business pages through meaningful references within the site's semantic map.

Show more

Show less

Yes

Creating and publishing articles in the blog

Blog calendar: Writing articles that meet the requirements of the online store's content strategy and publishing them on the site's blog.

Show more

Show less

Yes

Guest Blogging strategy (publishing articles in other blogs)

The service includes initiating and building links for SEO purposes by publishing blog posts in partner blogs, a monthly subscription for one country. It does not include the amounts paid to the blogger.

Show more

Show less

Yes

Errors from the platform itself, such as 404, 403, 5xx, or others coming from an internal Crawler (software that scans the site)

Fixing errors related to 404 pages and implementing a 301 redirect to a relevant page.

Show more

Show less

Yes

Errors related to speed coming from an internal Crawler and Core Web Vitals (a Google update that favors sites with high speed and valuable user experience)

Fixing errors related to CWV in terms of: Page Speed (coming from Page Speed Insights), Accessibility, Best Practices, and SEO.

Show more

Show less

Yes

Errors related to meta data (hidden information) and rewriting content on the site, coming from an internal Crawler

Automatically rewriting the store's meta data based on the SEO strategy.

Show more

Show less

Yes

Rich Snippets (displaying more information when searching in Google) errors

Fixing errors related to Rich Snippets and creating new ones according to the store's needs.

Show more

Show less

Yes

Errors from broken internal links, coming from an internal Crawler

Fixing the source linking to a page with a different response code from 200.

Show more

Show less

Yes

Duplicated content, coming from an internal Crawler

Identifying duplicated content and possibly rewriting and/or redirecting to a relevant page.

Show more

Show less

Yes

Maintaining the technical SEO state of the online store

A total coefficient for the store's condition. How much money you've saved with our SEO tools.

Show more

Show less

Yes

SEO Friendly filters

Building and controlling an SEO Friendly structure according to the store's needs and their pre-configured automatic SEO spinner.

Show more

Show less

Yes

Integration with Google Analytics 4 (A Google program that measures everything in the online store)

The service includes creating, setting up, and implementing GA4, organic traffic, and overall store traffic.

Show more

Show less

Yes

Integration with Google Search Console (A Google program that provides search information)

Connecting Google Search Console with information such as Coverage (errors) and Search Results (traffic).

Show more

Show less

Yes

Integration with third-party tools

Integrations with other software that enhance the SEO optimization of the online store.

Show more

Show less

Yes

Building links to other sites

Creating links (free or paid) from external sites to the Partner's site.

Show more

Show less

Yes

Cleaning up non-working links and other errors in the online store

Review (automatic or human) of the online store for non-working links, broken URLs, images without ALT tags, etc.

Show more

Show less

Yes

Commercial services

Commercial services, including the creation of promotions and campaigns

Business logic and development of scenarios for various marketing activities; creation of different types of content (content marketing).

Show more

Show less

Yes

Creating an annual calendar of campaigns and promotions

This is a calendar with promotions indicating the type of promotion, product categories, start and end date.

Show more

Show less

Yes

Assistance with pricing policy

In some cases, prices may be higher than market prices, while in others they may be lower. We help you find the optimal pricing environment.

Show more

Show less

Yes

Creation of a trade strategy (Business planning)

Attracting new and retaining current customers is achieved through four types of strategies: product, pricing, distribution, and communication.

Show more

Show less

Yes

Other services

Creating unique product descriptions

Specialists from the NEXT BASKET team prepare unique product descriptions that meet the following requirements: presenting the product with a focus on the benefits for the customer; indicating the difference compared to other products; description of features and functions.

Show more

Show less

Uploading new products to the online store

Importing products when the NB Partner provides the necessary information and a file in the appropriate format (template).

Show more

Show less

Yes

Design services

Refreshing the online store's look or creating an entirely new design, matching down to the smallest detail the requirements of the NB Partner; creating banners, videos, and product photos.

Show more

Show less

Yes

Creating banners (design, text, and resizing in different formats)

Creating static, animated, and flash-animated banners for website pages, for Facebook, Google, and various types of marketing channels.

Show more

Show less

Yes

Creating a unique design for a personalized online store

Creating a custom store design, entirely in line with the requirements of the NB Partner.

Show more

Show less

Yes

Product photography

Refers to various products: clothing, shoes, accessories, industrial products, etc. Clothes are shot on a table or using invisible (ghost) mannequins or live models (women, men, and children); for accessories and small items, 360-degree photos and videos are taken. There's an option for pickup and return of products from/to the NB Partner's warehouse (the price includes ironing of clothes).

Show more

Show less

Custom software modifications at the request of the NB Partner

Adapting and upgrading existing applications or creating entirely new functionalities tailored to the needs and desires of the NB Partner.

Show more

Show less

Yes

Warehouse services

Providing warehouse space for goods/products for sale

The Partner can store their products in the NEXT BASKET warehouse. Both pallet spaces and fulfillment storage of products in boxes or small cells, called addresses, are offered.

Show more

Show less

Providing all warehouse services, including accepting returned online orders

The Partner can use the full range of warehouse services, including tracking the shelf life of products (when applicable), annual inventory, and sorting returned products into three groups: fit for sale, defective, and unfit for sale.

Show more

Show less

Optimization with warehouse fulfillment software

The fulfillment software offered by NB is specialized for warehouses processing online store orders – it maps the picker's route; "stores" frequently ordered items in multiple positions simultaneously, reducing collection time; ensures correct order assembly.

Show more

Show less

Packaging and handing over parcels to the courier

Products from online orders are packaged several times a day, consignment notes for the shipments are prepared, and they are handed over to the courier.

Show more

Show less

Sending a returned product to warranty service

When an online store customer returns a product for repair, NEXT BASKET sends it to the respective warranty service or stores it to allow the Partner to decide what to do with it.

Show more

Show less

Acceptance and labeling of products in the warehouse

Upon their acceptance in the NEXT BASKET warehouse, all products of the NB Partner receive a barcode label.

Show more

Show less

Notification of the need for a new delivery of depleting products

Based on sales analysis and forecasting, the NEXT BASKET ERP system notifies the User about upcoming deliveries (product quantity, delivery date, etc.).

Show more

Show less

Insurance of products in the warehouse

Products in the warehouse are insured against all standard risks.

Show more

Show less

Additional services

Maintaining an SSL certificate for each page (enhances site security)

The SSL encrypted connection provides secure access to personal information that should not be disclosed to third parties. It's a search engine requirement for better site ranking. NEXT BASKET can ensure the continuous updating of the SSL certificate.

Show more

Show less

Creating a company logo

The NB Partner can commission NEXT BASKET to design a company or product logo, including personalizing fonts and colors.

Show more

Show less

Yes

Creating a Brand book

Standardizing the Partner's brand appearance in terms of colors and fonts, and harmonizing all elements associated with the brand by the customer – online store, email messages, articles, etc.

Show more

Show less

Yes

Creating and registering a domain

NEXT BASKET offers a service to search for available domains and register the domain chosen by the Partner.

Show more

Show less

Yes

Annual domain maintenance

Includes 24/7 technical support, parking page, full DNS control, transfer protection, email, and DNS redirection.

Show more

Show less

Yes

Creating a landing page for target marketing

The NB Partner can commission NEXT BASKET to create a landing page aimed at focusing attention on a specific product or product category.

Show more

Show less

Yes

Design of labels and packaging

NEXT BASKET offers design solutions for creating labels and packaging.

Show more

Show less

Yes

Market analysis

Based on market research, which includes gathering information about the Partner's industry and market environment; external factors affecting the specific business; customers (creating a customer profile); competition, etc.

Show more

Show less

Yes

Accounting services – managing the Partner's company accounting

NEXT BASKET offers the platform's Partner comprehensive accounting services, as well as expert consultation to improve financial results.

Show more

Show less

Trademark registration

The NB Partner can commission NEXT BASKET to register their trademark for a fee. As a result, the Partner acquires exclusive rights to this sign, specifically: to place it on their goods and offer them on the market; to dispose of it, transfer it, or allow its use by third parties; to prohibit other parties from using an identical or very similar sign, etc.

Show more

Show less

Disposal of unfit products

At the Partner's request, NEXT BASKET disposes of defective or returned products that are unfit for subsequent sale at a landfill.

Show more

Show less